Drivers
AMD Adrenalin 2022 Edition Graphics Driver 22.5.1 Download
Thank you for reading this post, don't forget to subscribe!
Designed to provide you with a clean, modern and easy-to-use interface where you can quickly access the latest software features, game stats, performance reports, driver updates, and much more – all from one convenient location.
Take advantage of the ALT+R hotkey to open AMD Software: Adrenalin Edition directly in-game, making it even more convenient and easy to adjust your favorite features and get a fantastic gaming experience.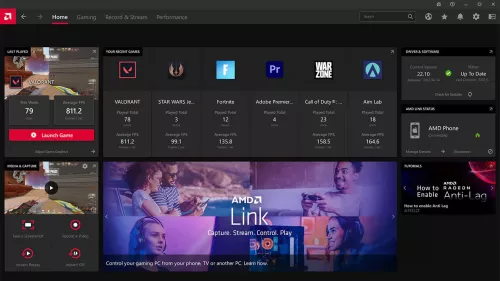 You can also download the AMD Link App for Android, which allows you to conveniently access gameplay performance metrics and PC system info on your smartphone and/or tablet.
What's New
Support For
AMD Radeon RX 6650 XT Graphics
AMD Radeon RX 6750 XT Graphics
AMD Radeon RX 6950 XT Graphics
Fixed Issues
Some users on Windows 10 operating system may observe the absence of the windows transparency aero effect.
Known Issues
Performance drop may be experienced while playing Fortnite with Multithreaded Rendering and DirectX 11 API on some AMD Graphics Products such as the Radeon RX 6900 XT Graphics.
GPU utilization may be stuck at 100% in Radeon performance metrics after closing games on some AMD Graphics Products such as Radeon 570.
Display may flicker black during video playback plus gameplay on some AMD Graphics Products such as the Radeon RX 6700 XT.
Using Radeon Super Resolution on 2560×1600 resolution displays may produce a system hang. A temporary workaround is to set the display Scaling Mode to Full Panel.
Enhanced Sync may cause a black screen to occur when enabled on some games and system configurations. Any users who may be experiencing issues with Enhanced Sync enabled should disable it as a temporary workaround.
Radeon performance metrics and logging features may intermittently report extremely high and incorrect memory clock values.
Package Contents
The AMD Software: Adrenalin Edition 22.5.1 installation package contains the following:

AMD Software: Adrenalin Edition 22.5.1 Driver Version 21.50.21.11 for Windows 10 and Windows 11 (Windows Driver Store Version 30.0.15021.11005).
Here's other similar drivers that are different versions or releases for different operating systems:
March 7, 2023
Windows (all)
597 MB

February 22, 2023
Windows 7/8/10
596 MB

May 26, 2020
Windows 10 64-bit
420 MB

June 4, 2019
Windows 7/8/10
352 MB

April 23, 2019
Windows 7/8/10
326 MB

April 16, 2019
Windows 7/8/10
328 MB

December 14, 2018
Windows 7/8/10
327 MB

December 6, 2018
Windows 7/8/10
318 MB

May 24, 2018
Windows 7/8/10
349 MB

December 6, 2018
Windows 7/8/10
318 MB